Electronic signature
and document management.
An environmentally-friendly practice.
Patient documentation is regulated by the Health Act. It means that the requirements as to the documents regarding the patients and the means of registration is primarily determined by the Act on Health (Eütv.) and secondly by the data protection laws (collectively known as GDPR).
It is important to note that the Eütv. states that, in contrast to the generally applicable legal concepts, the burden of proof is always on the practice. Therefore, it needs to keep correct and error-free documentation as protection.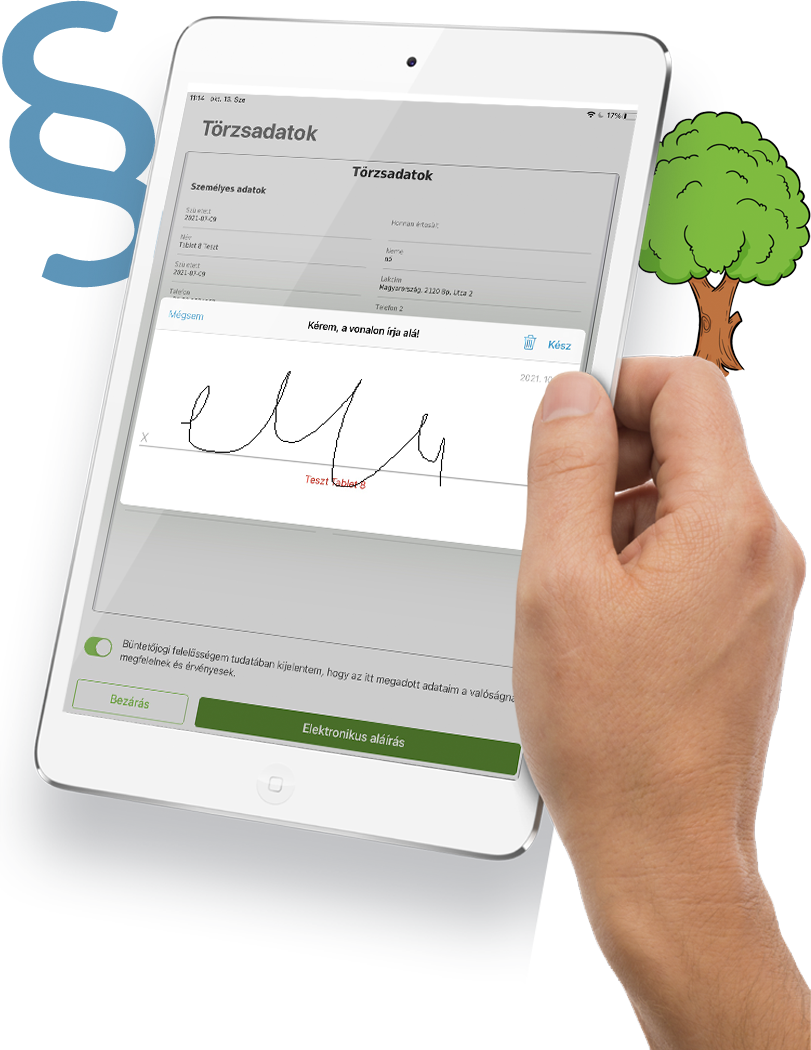 You may have become used to the fact that, at Flexi, our philosophy is that we want to solve our partners' problems. Correctly setting up the documentation, or not doing so, is an ever-increasing burden, and patient-initiated disputes and legal procedures are becoming more and more frequent, in which the clinics cannot adequately protect themselves due to their incomplete or insufficiently precise administration.
Signatures this month
Savings for the month
Total signatures
Total savings
---
Means of solving this problem
17 patient consent forms designed for differentiated situations
Miért kell 17 féle beleegyező? Azért, hogy Ön tényleg támadhatatlan legyen, minden eü-jogi szituáció esetére defacto, szakszerű dokumentációja álljon rendelkezésre.
Correct wording and context
It is often useless to have good documents when they are incorrectly applied or the links between them are not properly elaborated. Of the practices we studied, 73% had GDPR statements, but they were not correctly documented, which nearly amounts to have no statement at all.
Continuous update
The documents entered into the system will be constantly updated to follow up the legislative changes to reflect the most recent modification of the laws, so that the practice is always fully up to date.
Fully automated system without human intervention
This is estimated to reduce the administrative burden on staff by a further 30-40%.

An average receptionist spends 2-3 hours a day on documentation, depending on the requirements of the practice management. You can save 60-90 minutes per employee per day by automating processes.
Frequently asked questions:
Electronic signature combined with document management results in paperless practice
Summary
There are many types of electronic signatures. All of them are explained in plain language on the Internet. In a nutshell, it is a version of the comprehensive set of electronic signatures that we use more and more extensively in several areas of life. It is identical to our handwritten signature. This version is the biometric signature, which carries the name of something unique related to the person who helps to authenticate them.

When a signature is questioned, several things can be challenged. However, the fundamental question is whether the signatory's intention genuine or not. In this sense, there is no difference between a paper signature and an electronic signature. In the same legal sense, a biometric signature on a tablet is just as strong as its analogue, paper and pen.
However, Flexi is not satisfied with this level of authentication, either. We use a number of additional authentication solutions that strengthen the degree of authentication, in which we also differ, in that we think this is a legal solution that provides even better security, even in more complicated situations.

In summary, it provides a higher level of security compared to traditional paper-based documents. Now, it is a matter of process control and document management. There is a greater emphasis on the wording of the texts, the signage on the surfaces, or the order and timing of getting patients to sign such documents.
Detailed explanation
Patients
When the patient visits your practice, they no longer have to take a sheet of paper and search for a pen, which may be lost, but everything is done on a tablet. They can also sign the completed documents on the tablet. We provide all the technical and legal support to facilitate this process. In this sense, we're different from existing competing solutions, because we have our own signature verification system and we are capable of handling all aspects of our services ourselves. No data is transferred to an external service provider, which is an important trust factor. The documents signed by the patient are certified by Flexi and stored in a way that conforms to the legal requirements. And there will be no more paper in the office.
Paperless practice
The latter also has the advantage that it does not generate paper-based material that would then have to be disposed of properly. Any document that contains patient data or patient health data in an identifiable way must be destroyed in a controlled manner. Such documents cannot be dropped in the wastebin. In a paperless environment, no such 'unnecessary', documents are produced. Digitisation is a game changer. For example, receptionists are no longer required to double-check the manual forms and capture them on the computer at reception. So a lot of time can be saved, not to mention reducing the possibility of errors.
Save money
What if an email address is not legible or a social security number is misspelled when the receptionist captures them? In the former case we have a major marketing and communication loss, in the latter case the data will not be uploaded to the National eHealth Infrastructure (EESZT.) If the patient fills them in themselves and the data goes straight into the dental software, we have already eliminated a very significant risk of error and have saved a lot of time. Since most costs are attributable to human resources, this is not a negligible aspect.
Legal background
Electronic signature has been regarded as too complicated. I But the previous year and a half of COVID – among many other things, too– has made certain solutions more accepted and better known. Today, it is essential that, we don't sign for a postal or courier delivery on paper with a pen, but on that little gadget undergone the most significant breakthrough, as most financial institutions now require you to sign documents on a signature pad. Electronic signature has gained ground. The legal background for electronic signatures had already been in place, but that was obviously not enough to make it generally applied in all aspects of our lives. Even today, the terms "court practice " and "legal effect" are often used when the subject comes up, but the legal background provided by the European Union in 2016 (eIDAS) has completely clarified the topic.
Maximum patient satisfaction
In most parts of the world, electronic signatures are not only accepted but fortunately there are also standardized methods for their applications. Now, patients see no difference between signing a piece of paper with a pen or signing the same document on a tablet with the tip of their finger, or even with a special pen that comes with the tablet. Patients are no longer surprised by this. We have carried out various tests, even research, on the subject, as this function has taken several years of extensive development.- As a result of our tests and research, we can conclude that patients are no longer surprised by electronic signature, nor do they ask questions about electronic signatures. They have even become impressed by the use of a new technology, which is also a strong marketing tool. They will see your practice as one using innovative solutions in a waiting room. They will probably be unable to judge what technology you use for their medical treatment, but a digital process will impress patients.
Please provide specific information!
---
If you have any questions, please contact our customer service team on our main telephone number +36 1 792 1234 or at support@flexi-dent.hu.